Subscription billing is a relatively new feature in D365FO and is a separate module, which also covers the old revenue recognition module. This module is really powerful for all types of subscriptions scenarios. This document covers just a simple example of using the Subscription billing. You can see an overview of scenarios in previous article.
Creating a contract

The Subscription billing is a separate module, which includes in reality three different features, as shown below:
Recurring contract billing

Revenue and expense deferrals

Multiple element revenue allocation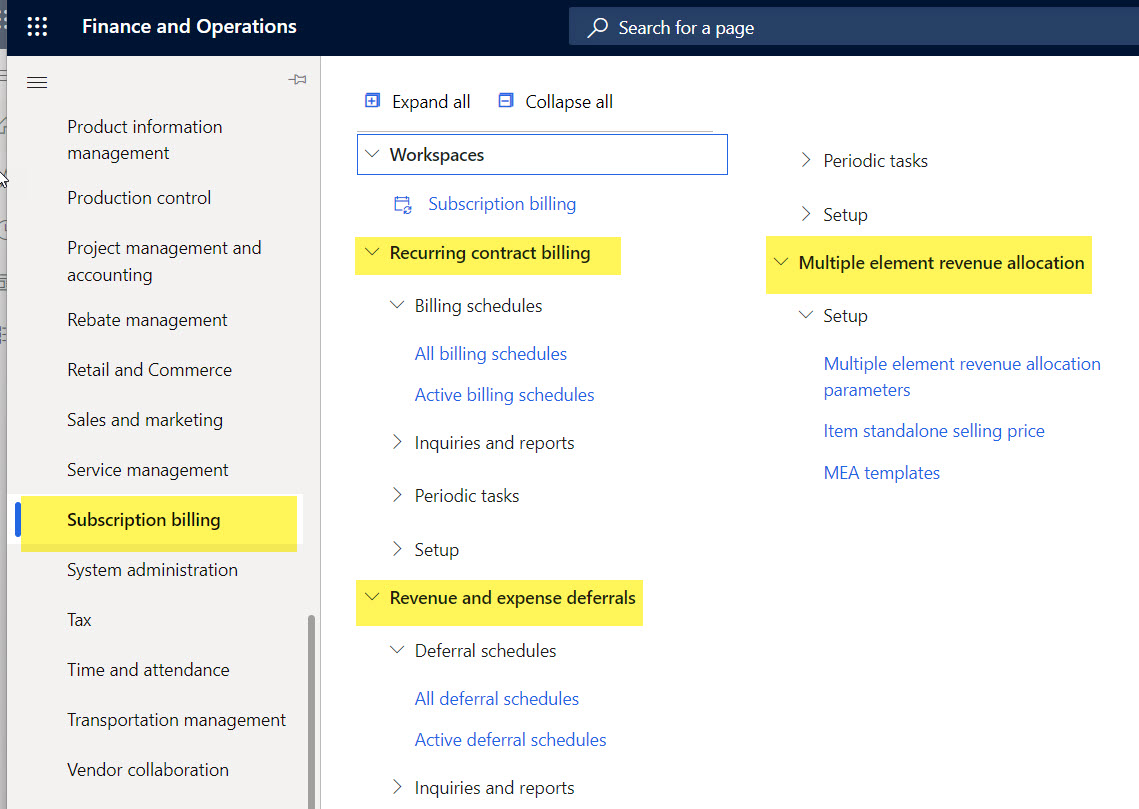 In the following we will focus on billing schedules.
The core part of the module is the recurring contract billing.
Go to Subscription billing > Recurring contract billing > Billing schedules. The following screen will appear.

Click on New to create a new contract. This will create the contract header, which can then have multiple lines for the contract. The pop up will appear as shown below.

Enter the billing schedule group. The group is a setup, where the defaults are defined for the contracts, like billing frequency, pricing method and item type.

Enter the customer account for the contract.

Enter the start date of for the contract.
When setting up the contract there are three concepts that must be defined and are setup on in Subscription billing > Setup > Billing schedule group:
Frequency of billing, recurring, one-time or automated renewal

Pricing, simple pricing (trade agreement), flat, tiered or other pricing combinations are available.

Type of item such as usage-based (metered), milestone based (completed service) or standard
The picture below shows the possible default setup on the billing schedule group.

Once the contract header is created, the lines can be defined.
Click on the contract header from the list page.

Enter the items to be included in the contract.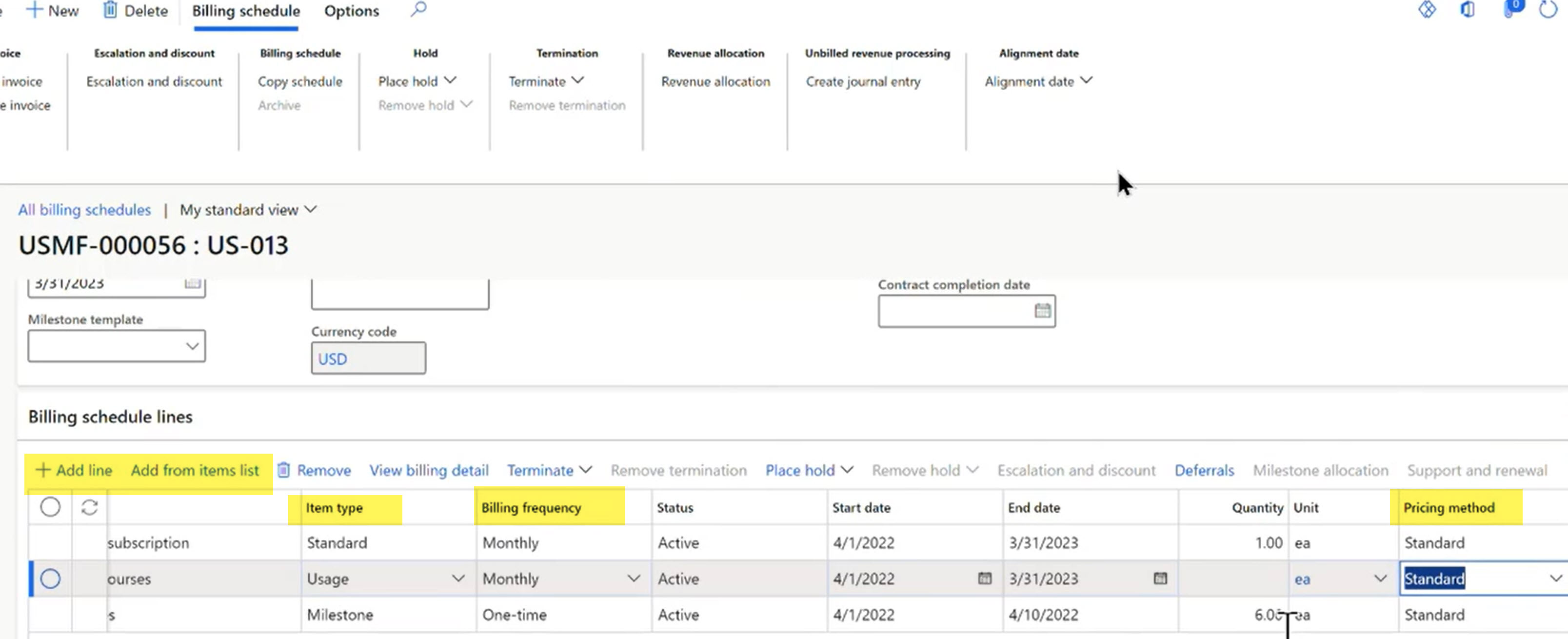 In the screen above, three items have been added:
Standard item with monthly billing and standard pricing, which means the pricing will come from trade agreement or the released item if no trade agreement is available. Click on View billing details and the plan for invoicing will appear below.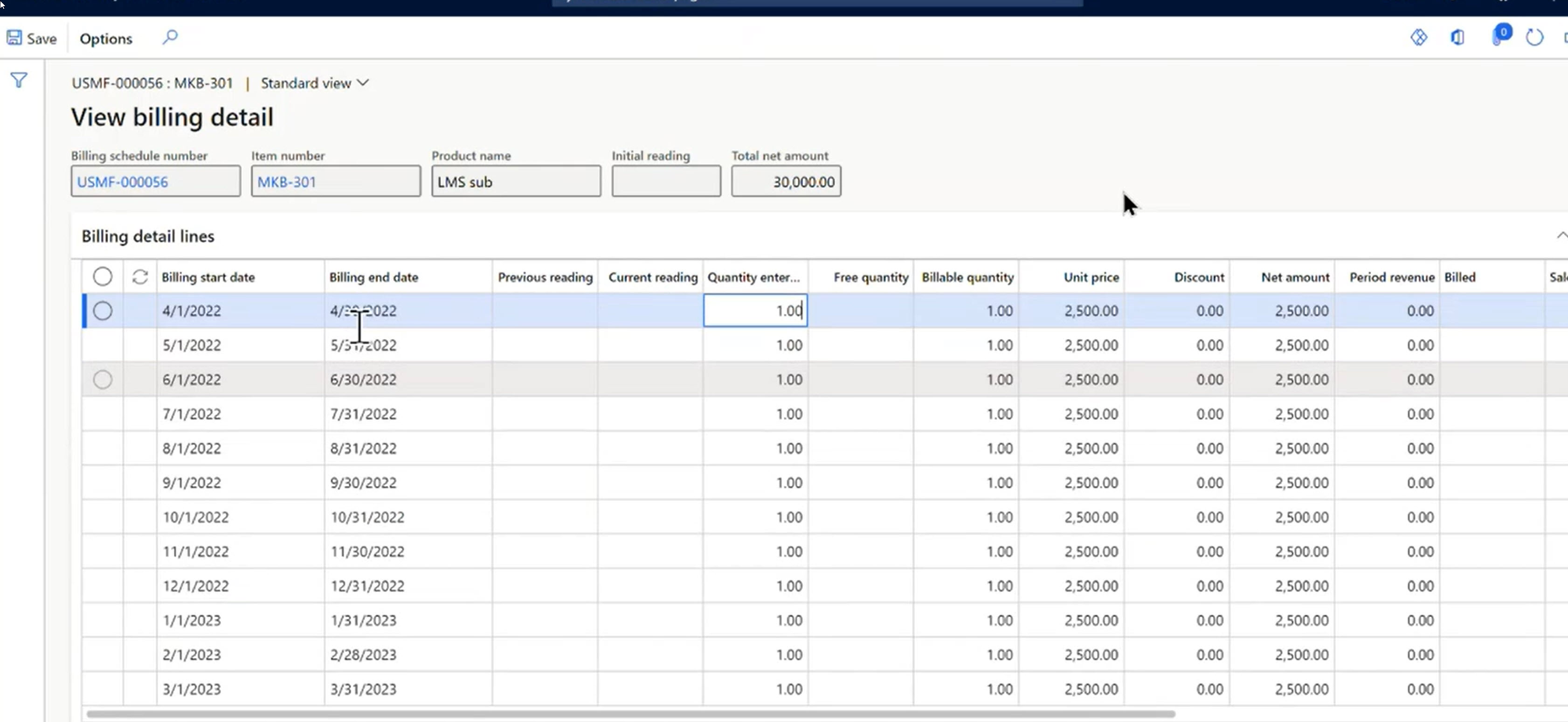 Usage item that will be measured each month, i.e., utility, with monthly billing. When you look at the billing details for this item, the usage is empty, but will be entered by external source that will fill in the current reading. The price changes because of conditions defined in the trade agreements for this item/customer.

Milestone item type, which is one-time fee in this case, as it is only billed once.
Generate billing
When the batch to create the invoices is run, the sales order and invoice will be created. If you take a look at the invoice, there is now a new link that will allow you to view the billing schedule and thereby view all of the invoices and sales orders related to this contract.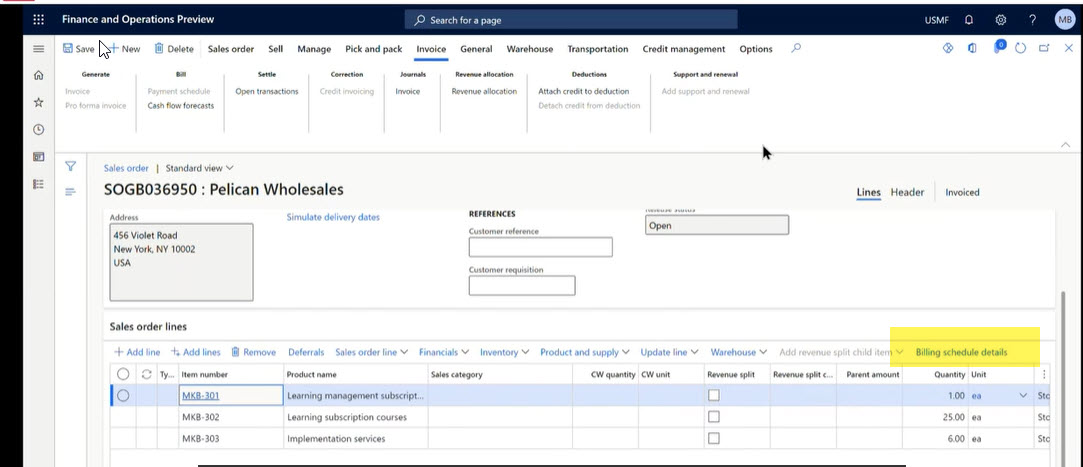 Please feel free to contact us for a demo or questions.